In Fall 2015, I worked with several colleagues to create our own version of a agile/scrum description for our team members working on digital (web & apps) for Marketing-centric efforts.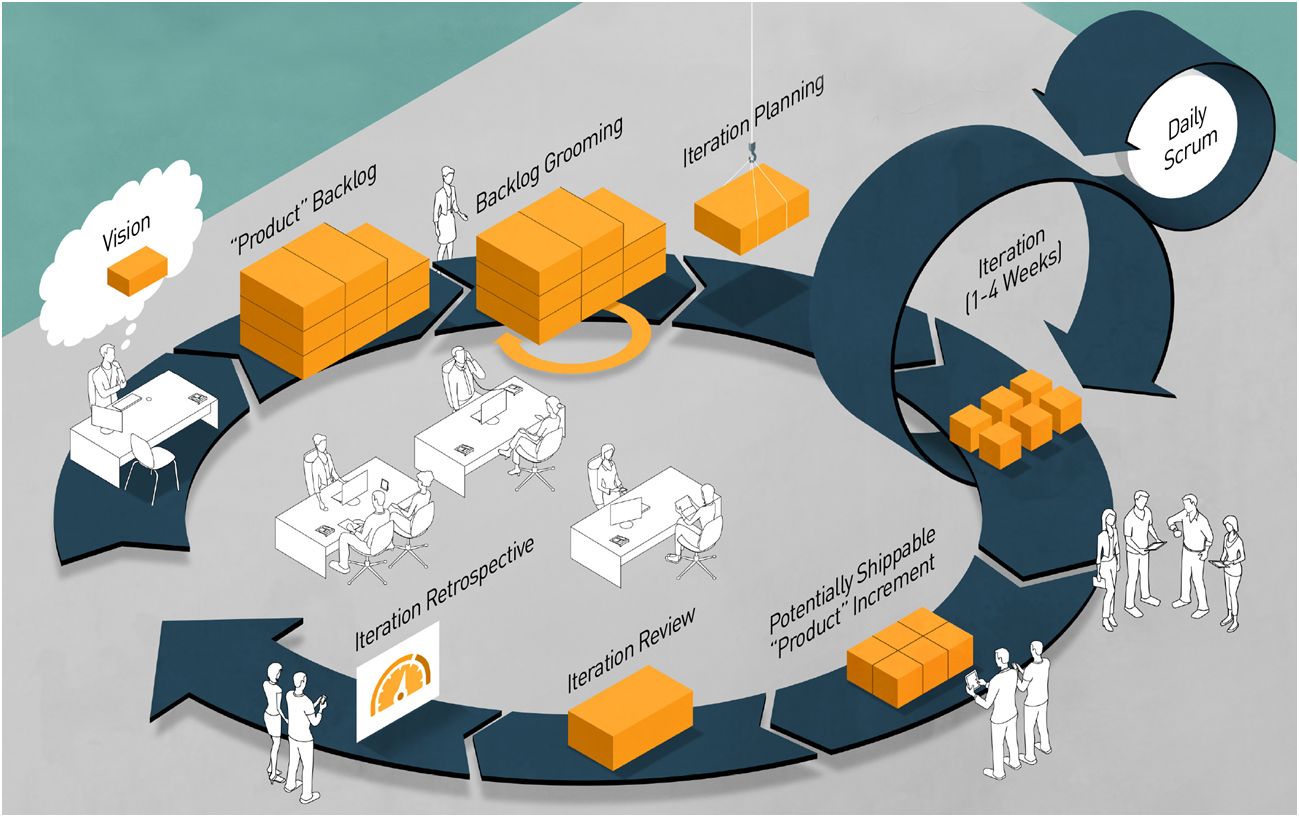 An Adaptation of the Manifesto for Agile:
Individuals and interactions
MORE THAN processes and tools
Iteratively functional solutions
MORE THAN comprehensive documentation
Colleague Collaboration
MORE THAN project negotiation and "lobbing a brick"
Responding to change
MORE THAN following a rigid plan
Focused effort
MORE THAN divide and conquer
---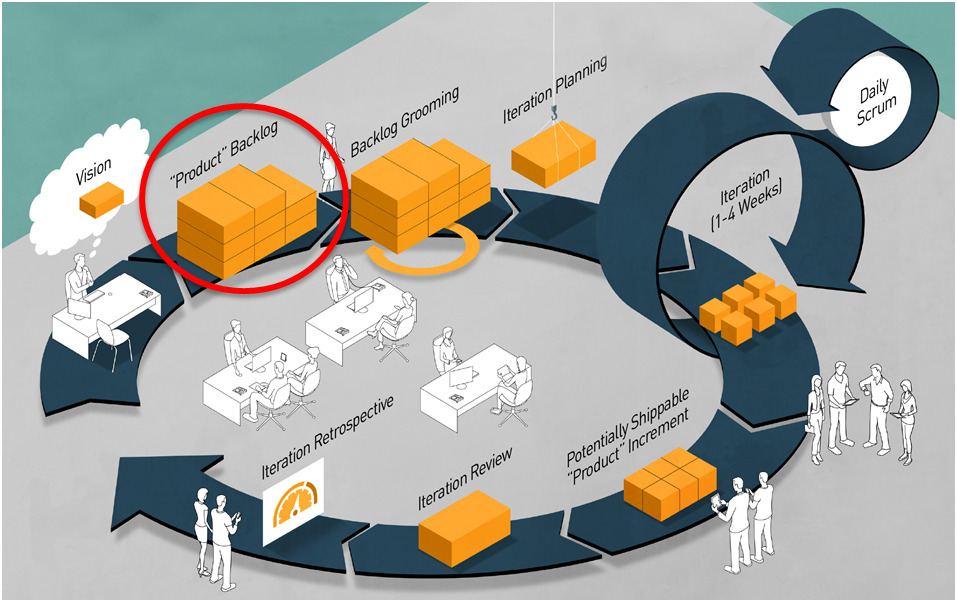 "Product" Backlog
Players: Stakeholders, Scrum Product Owner (PO), & List/Backlog.
List of all the requested work on the project, a.k.a. the requirements list.
Each item within the list, PBI (product backlog item), should be written to describe value to the end-users of the project, referred to as "User Stories" and "Epics" (longer/larger User Stories).
The PO should try to decompose User Stories into the smallest possible description of value to the end-users.
The list should be compiled, ordered and prioritized by the PO.
No timeline or schedule should be associated to the Product Backlog or PBIs.
---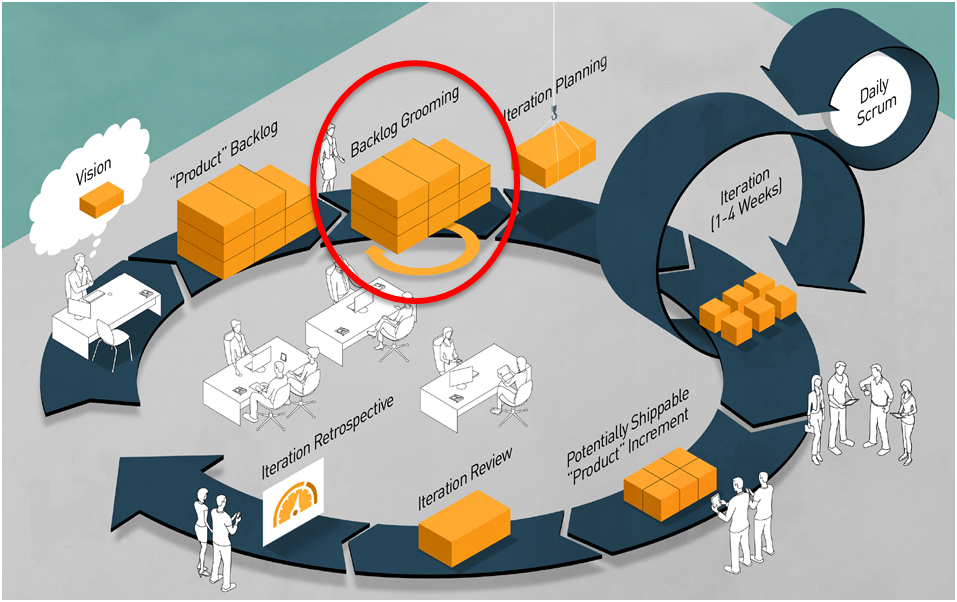 Backlog Grooming
Players: Scrum Product Owner (PO), Scrum Master (SM), Scrum Team Members, & List/Backlog.
Re-prioritize for the start of each iteration to adapt to changes in business needs and/or scope, referred to as "Backlog Grooming."
Backlog Grooming should occur regularly. A best practice is to do once per week as a pre-Iteration Planning activity.
Scrum Team Members can use Story Points (a.k.a. Planning Poker) to determine both the perceived level of difficulty for a given User Story, and the perceived volume of work to achieve the given User Story. Values of Story Points should not be a measure of estimated hours.
Story Point values for each User Story are relative to the other User Stories, and the goal is for the Scrum Team Members to gain an understanding of each others' work for the Sprint. The Fibonacci number scale can be used for the Story Points.
---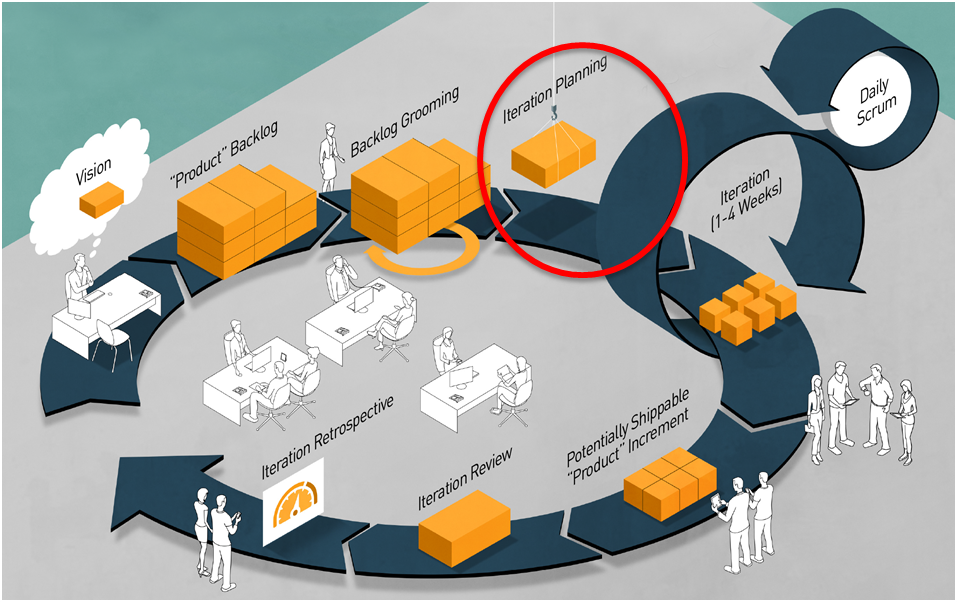 Iteration Planning
Players: Scrum Team Members, Scrum Master (SM), & Scrum Product Owner (PO).
User Stories should be prepared in advance of the Iteration Planning meeting/conversations.
Scrum Team members select User Stories from the prioritized Product Backlog to commit to achieving by the end of the Iteration time duration.
User Stories can be deconstructed into actionable tasks and sub-tasks. A technique called User Story Mapping can be used to help deconstruct User Stories.
Story Points can provide an estimate of Scrum Team's potential bandwidth thru-put for the Iteration, referred to as "Iteration Velocity." From past Iterations, actual velocities can be used to inform the team's achieved bandwidth thru-put.
---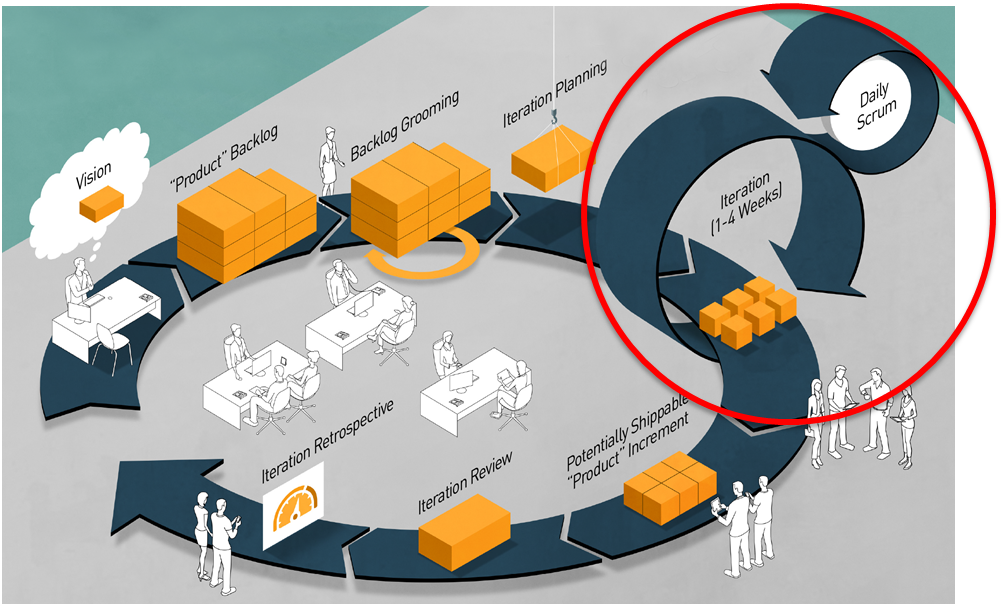 Iteration
Players: Scrum Team Members, Scrum Master (SM), & List
User Stories as well as related tasks and sub-tasks are tracked throughout the duration of the Iteration, as progress is made towards completion.
Common categories for tracking progress are:

Not Started - team has committed to achieving this user story or task during the current Iteration, but no one has begun work towards this item.
Work In Progress - one of the team members has begun work on this item.
Done - this item is 100% completed, tested, and ready for deployment.

A visual display of all User Stories, tasks, and sub-tasks can help all team members stay informed on their collective progress. For example, color coding elements can assist in the visual display:

Planned user stories - Green
Tasks/sub-tasks - White
Unplanned user stories - Yellow
Bugs - Blue
Impediments - Red

The team's actual velocity can be tracked during a Iteration as well as Iteration-to-Iteration.
---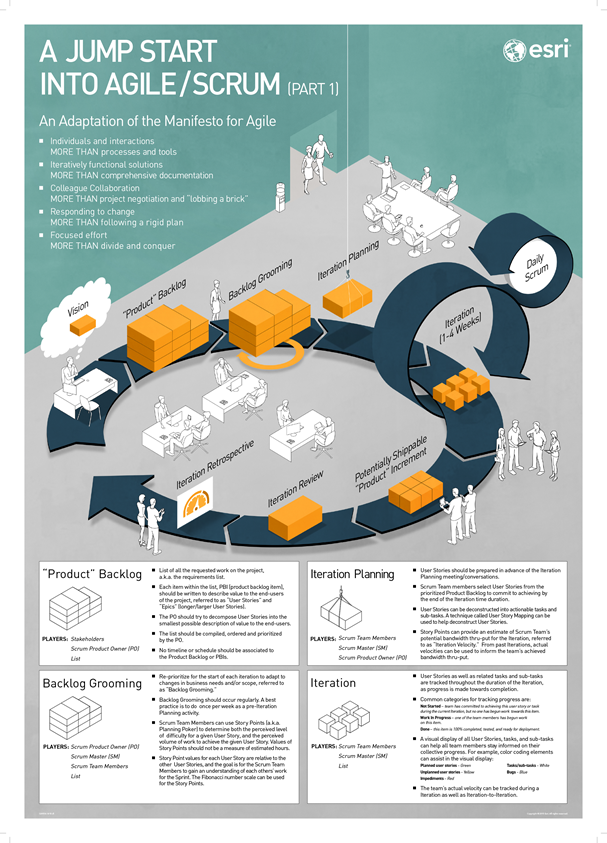 To note, while this isn't anything revolutionary, we did this as an exercise to establish a common definition and description for our team members.